Developer / Publisher – BOBOVR
Price – US $59.99 / CAN $79.99 / EU €69.99 / UK £49.99 / AU $89.95
Store Link – AliExpress
Reviewed on – Quest 2
When it comes to Quest 2 head strap choices, there seems to be a near limitless number of options available with some being carbon copies of Oculus brand stuff while others look to reinvent how the headset sits on your head or include extra battery power for extended play.  The BoboVR brand of accessories has managed to rise above many of the rest, offering quality products all designed to keep you playing longer.  The M2 Pro head strap looks to be the flagship product from BoboVR, maximizing the comfort of the front heavy headset while providing an additional power option beyond the out-of-the-box 3 hours provided by the HMD.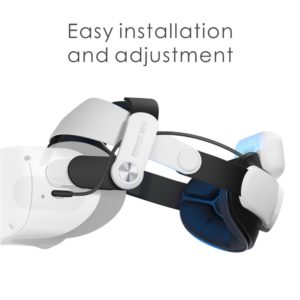 Out of the box, I was initially confused by the design as it looked a little awkward in the way it folds upon itself so, after trying and failing to put the strap on myself, a quick google search led me to the BoboVR created installation video (about a minute and half long) that easily explained just how dumb I was and after no more than about a  minute, I had the new strap on and ready to go. What's great about the M2 is that it uses a halo design that allows the headset to essentially float in front of you as the weight is distributed around and on the back of your head.  Padding at the rear, forehead & on top of your noggin allows for comfortable wear and out of all the head straps I have worn, the M2 is easily the most comfortable.  On the rear of the headset is the magnetic battery mount that allows for easy placement of a removable/rechargeable BoboVR brand battery.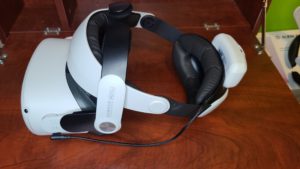 The star of the show is that magnetic battery which reportedly offers up and additional 3 hours of battery life and in my testing, that's fairly accurate.  That battery is detachable from the headset, mounted to the headset by a strong enough magnet that makes it feel very secure when in place.  Detaching the battery is as simple as just applying a little force to remove it with said battery having a USB-C port for easy charging.  It should be noted that unlike some other rechargeable options out there, the BoboVR battery is not designed to be plugged in while in use and though that is somewhat redundant, that still could be a factor for some looking for extra power.  The cable connecting the battery to the Quest 2 is built in and not detachable and there really isn't any need to unplug it (save for one I'll mention below) as the option to turn on or off charging is on the battery itself with a circular button at its rear toggling whether you want to use it or not.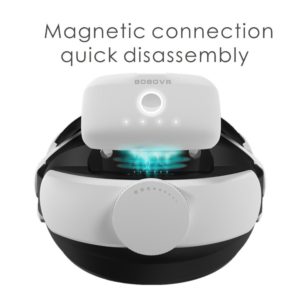 So, as I said, that advertised 3-hour battery life was relatively accurate with my tests coming in around the 2 hour and 45-minute mark while playing a variety of games and apps on a fully charged Quest 2 battery.  Some other reviews have reported the Quest battery draining while charging off the 5200 mAh cell and, in my use that wasn't the case as my fully charged battery stayed full until the battery pack was used up.  On a separate test, I drained my Quest battery and than played off the battery pack which did charge the Quest 2 to just shy of 90% before depleting the pack giving me around that same total of 2 and half hours.  Either way you look at it, the battery pack effectively doubles the time I could use my Quest which makes those longer sessions much easier and the fact that I can charge it separately or could grab a 2nd pack for essentially endless play has me happy with this battery.  Charging times will vary depending upon how you are charging though in my experience using a generic USB wall charger, charging the battery took around 3 hours so when my Quest 2 drained, the battery hadn't fully charged just yet, floating somewhere in that 80% mark.  4 LED's on the back of the battery indicate how much juice is left and blink while charging so you can see roughly how much charge is in there.  As I mentioned earlier, the one issue I did have with the design is the built-in USB cable which did get in the way when I chose to play tethered to my PC.  I tried to tuck it into my PC cable, but it often always ended up flapping beside my head, forcing me to devise some sort of clip or holder for the cable so it wouldn't interfere with my PCVR game time.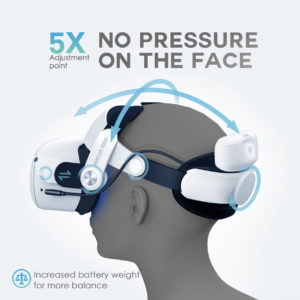 Overall, I'm happy with the head strap and battery pack as both have made my Quest 2 gaming a little easier and streamlined.  The head strap is substantially larger in size than my other headsets, so much so that I ended up buying a new carrying case to accommodate that extra size.  The case I went with was the BoboVR C2 Carrying case which is built for the M2 and I am enjoying it, but it was an expense I didn't consider with the new strap so if you do travel with your Quest 2, this might be another consideration for you.  Outside of that, my setup issues & that mounted cable is a strap and battery that delivers upon its promises of comfort and battery life, and I recommend this to those who are looking to up their Quest headset game to the next level.
What would I pay?  From the BoboVR website, this currently sits $59.99 US which includes both the strap and battery and I think that combo deal is worth it!  If you are interested in a 2nd battery, those cost $40 US which I think is a tad steep, but if you do game it so long you need the extra juice, it's not a crazy ask.
BoboVR  provided The VR Grid with a sample of this product and, regardless of this review, we thank them for that!